electroless nickel
Established in Manchester as one of the UK's leading metal treatment providers, SWS service a wide range of metal component processes ­ including electroless nickel.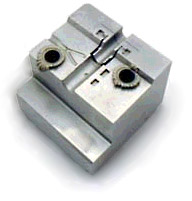 It is possible to plate almost all metals with electroless nickel.
As its name suggests, electroless nickel is not an electroplating but an auto-catalytic process ­ and as such no power is required to facilitate the plating process.

The electroless nickel process has the distinct advantage over electro-deposited coatings by providing an even deposit thickness over all the surfaces of the metal components, regardless of the metal component's shape.
Metal components with deep recesses, blind holes and bores are ideal for this electroless nickel process.
Valves, moulds, engineering details and tooling are effectively coated by this electroless nickel process and thickness of up to 75 microns are achievable with hardness of deposits up to 500-600 Vickers. With further heat treatment hardness of up to 1,000 Vickers are obtainable, which is comparable to the hardness property of chrome. It also renders its substrate with outstanding corrosion resistance properties and increased wear resistance.
Electroless nickel plated steels may provide a cheaper alternative to stainless steel engineered products.
The deposit is easy to solder and has natural lubrication properties which prevent 'galling' of mating threads and surfaces of interconnecting parts.

All these services are completed 'in house' at our Trafford Park site in Manchester.
For more information about our electroless nickel service please call our Manchester based technical team on 0161 872 3569. Alternatively, you can get in touch via our contact us form.