precision grinding

SWS transferred the precision grinding facilities of their associate company Cromie Ltd, to their Trafford Park, Manchester site in 2006. The newly refurbished building has given SWS the capability to precision grind rollers, shafts and similar metal components up to 5m long.

SWS specialise in sub-contract cylindrical, internal, universal and ring precision grinding on all steels including stainless and tool steel together with an extensive capacity for the precision grinding of copper plated rollers all to a high degree of quality and accuracy.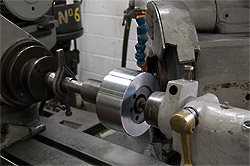 Our on-site facility in Manchester allows for a fast turn-around of our precision grinding service; from pre-grind/chrome plate/finish grind of parts to the refurbishment and re-chroming of worn or damaged metal components.

Along with the in-house precision grinding capability, SWS are also a preferred supplier to several 'blue-chip' companies and service them on a daily basis with hard chrome and electroless nickel plated products.

Our extensive customer base includes several large engineering maintenance contractors who rely on the professional response and service is of SWS for the efficiency of their business production.

Conveniently based in Manchester, SWS can deposit different finishes on the same metal component and round off with a finish grind to the same component.

All these precision grinding treatments are completed 'in house' at our Trafford Park site in Manchester.
For more information about our precision grinding service please call our Manchester based technical team on 0161 872 3569. Alternatively get in touch via our contact us form.