hard chrome
Established in Manchester, SWS specialises in providing hard chrome deposits on rollers, shafts, hydraulic rams, pump rotors and engineered metal components ranging from small pins to large industrial rollers.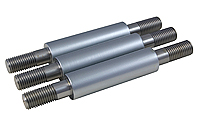 Hard chrome plate provides the benefits of greatly increased wear and abrasion resistance together with low friction properties and hardness of deposit of around 1,000 Vickers.
Metal components such as worn shafts and roller journals can be re-chromed and ground back to size thus providing a very viable, cost-effective and time-saving solution to the costly alternative of scrapping the metal component and enduring lost lead times.
The range of deposit thickness on our hard chrome varies from 'flash' coatings of around 7.5 to 25 microns to heavy hard chrome deposits of up to 750 microns. These heavier hard chrome deposits usually require grinding and polishing after plating to maintain tolerances and surface finish profile.

SWS also 'satin' chrome plate which is a requisite for many of our customers who provide specialised tooling components for use in the offshore valve industry. The finish of our hard chrome plate is dull grey in appearance and significantly enhances the overall performance and finish from a handling viewpoint.
All these services are completed 'in house' at our Trafford Park site in Manchester.
If you require further information about our hard chrome services or need advice about the treatment of metal components please contact our Manchester based office on 0161 872 3569 or get in touch via our contact us form.